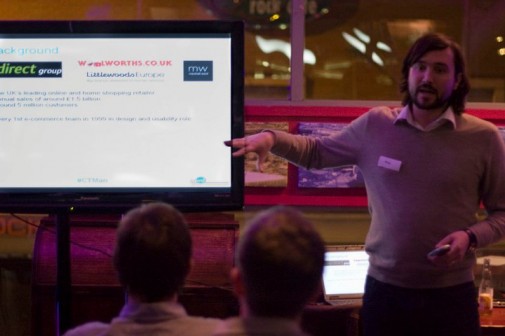 Conversion Thursday Manchester – inaugural meeting
After the success of Conversion Thursday meetings all over Europe, including London and Barcelona, it's Manchester's turn.
Conversion Thursday is aimed at wider group of digital practitioners than Web Analytics Wednesday Manchester, which it supercedes. This inaugural meeting was attended by SEO specialists, usability gurus, web analytics guys as well a good mix of agency and client-side people. Those that made it had travelled from as far away as London and Lewes, to help us get the group going.
As part of the 'get to know you' part of session, MC Dan Croxen-John asked everyone to name a tool, technique or website that they had impressed them. Those that got a mention included Impact Radius (media buying tool) , Marin (a PPC bid management solution), CustomerSure (a customer feedback platform – launching soon) as well as using Google Analytics event tracking to report on the performance on on-site banner campaigns.
The rest of the evening was dedicated to listening to Paul Rouke of PRWD, present "Increasing Basket to Checkout Conversions – the ASOS way".
The next Conversion Thursday Manchester (#ctman) meeting will be held between 6-9pm on Thursday April 21st, venue to be confirmed. Please register on the Applied Web Analytics' Conversion Thursday sign up page.
See what people were tweeting about this first CTMan event
FREE EBOOK
Discover how businesses have made the shift from CRO to experimentation – and you can too
Download your copy today >
Posted in: Events
If you enjoyed reading this, you might also like