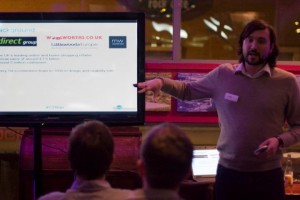 Conversion Thursday Manchester 2013: half-year round up
Conversion Thursday Manchester is a networking event for people interested in improving conversion in the digital arena. We meet quarterly in central Manchester.
If you haven't been able to make it to Conversion Thursday Manchester over the last couple of events here's a recap of what you have missed – as well as chance to download the sessions' presentations.
The first event in March was a sell-out, with more people than tickets available, all coming to learn more about split-testing and optimisation.
The night's highlight was Matt Althuser from Optimizely explaining How Obama split-testing used in the US Presidential elections. Despite the room being full of conversionistas most of didn't guess the winning call-to-action nor even the best performing media .
Watch the presentation for yourself and see if you can guess which was the wining combination – no peeking though.
This next event on June 6 focused on multi-channel analytics. The challenge of measuring visitors across different online campaigns, those visitors that reach for the phone as well as drawing it all together into one single view of the visitor journey.
Dave Mullen helped us to understand how to use Google Analytics Multi-channel Funnels in his presentation, after which Mark Emmett showed us how ResponseTap can be used to track those converting over the telephone.
The prime slot was reserved for Neil Mason, the elder statesman of web analytics, who discussedhow iJento was used to help LV segment their online visitors and increase the sales of insurance policies.
Neil was took questions about data privacy, joining up the data and the use of decision trees in data analysis
The next Conversion Thursday Manchester event on 19 September focuses on mobile analytics and optimisation and we are looking forward to talks from
Matthew Lawson, Head of Conversion at Appliances Online, the UK's largest on-line white goods retailer

Stuart McMillan, Deputy Head of Ecommerce at multi-channel retailer Schuh

Craig Sullivan, one of the world's most respected conversion optimisers
If you would like to discover how to optimise mobile websites and apps book now on Conversion Thursday Manchester 19 September 2013.
Comment below if you would like us to cover particular topics or invite speakers you have been dying to hear.
FREE EBOOK
Discover how businesses have made the shift from CRO to experimentation – and you can too
Download your copy today >
Posted in: Events
If you enjoyed reading this, you might also like