CRO Tactic Execution
Research and Analysis forms the bedrock of a successful CRO strategy. Execution is where those insights and data are used to create tangible improvements to the website.
On our Periodic Table of CRO Success, we have shown four sub-groups in the Execution phase of a CRO process, with factors to consider in each:
Prioritisation
Hypothesis Development
Creative Execution
Split Tests (A/B testing) and Multivariate (MVT) Tests
Prioritisation
As Bill Gates says, 'Prioritisation is effectiveness'. The difference between a well prioritised Optimization Plan or road map and a poor one can be the difference between success and failure. The CRO Research and Analysis usually yields dozens of areas which could improve the revenue and customer experience of a website. How do you decide which to go for first?
Which ones can you safely ignore, leaving you and your team free to focus your efforts where they'll make a difference? A number of methods of CRO prioritisation are used by different practitioners, such as Bryan Eisenberg's Time-Impact-Resources model, but in general they all work by assigning a weighting to each issue. The factors used in calculating the weighting include the elements shown here:
Likely Impact
Weight of Evidence
Ease of Implementation
Business Urgency
Device
We use the Evidence, Potential, Ease (EPE) framework developed by our optimisers, with each idea given a score of 1-5 for each of the criteria. Use the table below as a guide.
SCORE
POTENTIAL
EVIDENCE
EASE
★★★★★

There can only be a few of these.

Very high potential, such as critical usability issues with high occurrence rate, in area where high drop off is observed.

Situated in an area of the site with high traffic, and relatively high contribution to total revenue.

Strong evidence from multiple sources points to it being an issue or opportunity.
The test is easy to code and implement.

It enjoys the full support of everyone in the organisation.

★★★★
High potential, such as a critical usability issue or characterised by a high drop off rate.

May occur in an area of the site with slightly less traffic or where contribution to revenue is slightly lower.

At least one strong source of evidence.
The test is easy to code.

It enjoys the support of most people in the organisation.

★★★
Medium potential, such as a usability issue ranked Medium, or one with a lower occurrence rate.

Could also be high potential idea in an area of the site where there is less traffic or smaller contribution to revenue.

At least one source of evidence.
The test is relatively easy to code.

It enjoys wide support in the organisation.

★★
Medium to low potential idea in area of the site with low traffic or low contribution to revenue.

Could be a usability issue marked Low.

May have only one source of evidence, or weak evidence.
Relatively complex to code.

Or idea does not have wide support in the organisation.

★
Low potential, occurring in areas with low traffic.
Weak evidence, or no objective evidence.
Ideas that are difficult to implement should fall in this category, even if it has higher potential.
Source Table from E-commerce Website Optimization by Dan Croxen-John and Johann Van Tonder.
Hypothesis Development
Hypothesis development is born out of the research findings. The time, skill and effort that goes into developing hypotheses statements has a crucial impact on the overall success of a CRO programme.
The statement should recap the data observed and feedback received, and formally describe the suggested change and the reasons why it is believed that will lead to improvement. The change is represented in a wireframe, and subjected to peer review where possible to ensure it delivers on the statement.
Hypothesis Design
Good hypothese are key to ongoing success and formally developed hypotheses ensures you are focused on the customer and their needs, which in turn means you are more likely to test something meaningful that gets results.
A hypothesis is a prediction that making specific changes to your website will results in sales increases. They should be based on evidence about customer behaviour and feedback.
"Does it state the intervention, the anticipated behaviour and the target group?"
Wireframe
A wireframe is the bare bones of a web page, displayed as a mock-up of the proposed layout of the new page you want to test. A wireframe is usually a simple line drawing with copy and placeholders for images. If you include too much 'design' here, when it is reviewed it will be hard to focus on the core functionality, so simple is better in this instance.
"Does it address the issues identified by the data, so that it can be split tested?"
Peer Review
Reviewing the wireframe and copy is necessary, as with all creative tasks, there may well be more than one viable creative solution. That is why is can be useful to get feedback before launching the test. When reviewing it, you need to ensure it delivers on the hypothesis.
"Has the wireframe had feedback from the wider team?"
Creative Execution
Clearly, the new variation needs to follow your brand guidelines, to reduce the risk of other variables affecting the split test result. In many cases this is something your developer can do easily with basic HTML and CSS. However, sometimes a designer is needed to create new icons or images, and to make sure the spacing, layout, hierarchy and typography looks professional, with copy and content putting the message across in a clear and compelling way.
Split Tests (A/B testing) and Multivariate (MVT) Tests
When test results come in, how confident can you really be about those results? For example, is your sample size large enough to make inferences about the broader population? This is not a matter for guesswork; it should be calculated before the test starts. Run any test over at least two commercial cycles – for most businesses, this will be two full weeks. Don't pause it earlier, and don't extend its run just because you didn't get the desired result.
When the test is declared, resist the temptation to cheer for the 'winners' or bury bad news for the 'losers'. Both are learning opportunities, and the negative uplifts can often teach you much more, and indirectly lead to the real breakthroughs.
You won't always get a 34.7% uplift from a single test, as we did in this Northern Parrots case study.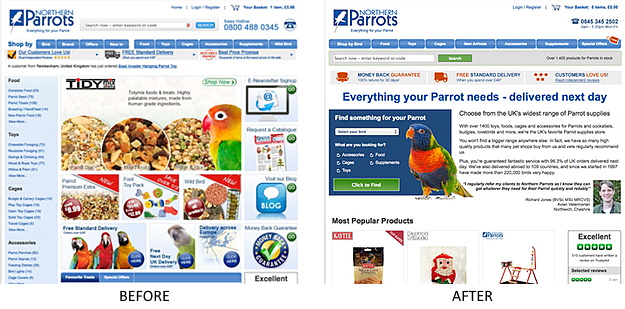 Be methodical about analysing each test result and logging the learnings to inform the next test and future CRO activity. Run iterations of both positive and negative tests to get the most value from them before moving on to the next issue, but do this in the context of your overall roadmap.
MVT tests should be used with caution. Statistically, 95% confidence means that 1 in 20 of your positive results is actually negative. MVT's create new variations for each variable added, multiplying the potential for misleading results. As a precaution, the confidence level can be increased to 99% but this still leaves test results open to a high level of false positives. Provided you have enough traffic, MVT's are useful as a learning exercise to identify conversion levers. We recommend always running an A/B test to follow up on MVT tests, to help minimise the risk.
For more on split tests, see A/B Tests in our blog.