4 easy steps to recruit your best usability testers
If you've ever done user testing, you will know that finding the right panel of testers is one of the hardest parts of the process. Ethnio aims to solve this by recruiting users directly from your website. While it is useful to be able to tap into the extensive networks of popular online user testing platforms, recruiting panellists using Ethnio offers some clear advantages.
Firstly, you get the opportunity to test the site on people with an interest in your service or product. This is particularly important if you serve a niche target market. Secondly, it negates the biggest downside of "canned" panels – many of those users have become so professional at testing websites that you risk not getting an authentic experience.
How it works
An overlay, called the screener because it screens participants, is displayed to your visitors. You can control the precise position where it appears on the page. As you'd expect, you also have control over copy and general appearance. There is an easy 4-step process to setting up the screener, plus Ethnio provides you with some tools to manage your recruits to website testing.
Setting up the screener
Stage 1 (Design) is where you are guided through the following easy steps:
Create new screener
Give it a descriptive name
Upload your logo
Enter the URL of the site where the invitation should appear
Stage 2 (Invite) is where you write the call to action copy and set the position of the overlay. This is done with an interactive drag and drop facility that shows the screener on your site in a preview window.
Ethnio provides placeholder copy, which you need to adapt.
Headline: Write something short and to the point that will get attention.
Incentive: Offering something in return will increase your response rate.
Body: Explain in a few lines what you are trying to achieve and what will happen next
Stage 3 (Questions) is where it starts becoming evident why it's called a screener. Based on the answers to your questions respondents will be recruited into the usability research – or not.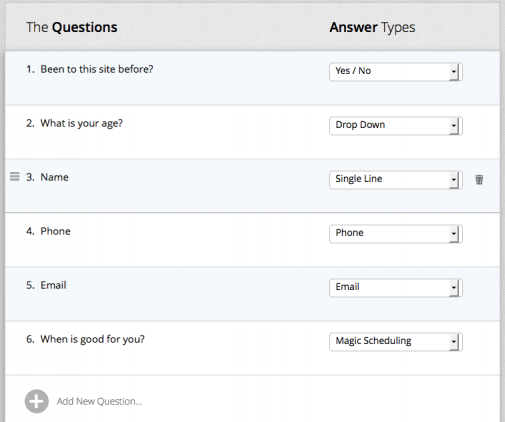 Standard question types include the following:
Demographic details: age, location and income
Contact information
Behavioural questions: "have you visited this site before?" or "are you intending to buy something from this website today?"
It is even possible to schedule appointments live by synchronising with your Google Calendar. The scheduling module will automatically block out unavailable time slots. The basic process ends at Stage 4, the Thank You message. All that remains is to deposit a line of javascript code on the target website, and to set the Code Status to "On". If you don't do this, your screener won't show up, even if the code is implemented.
Managing recruits
The Ethnio Recruits interface lists all respondents, also assigning a rank to each based on their responses. Ethnio can be set to automatically advance qualifying respondents to a test on a user testing platform. Alternatively, you may prefer to contact users manually. At AWA, our preference is to do usability testing with qualified visitor to your site. These are people that are interested in your products or services. These are best people to recruit for usability testing.
If you're looking to drive profits and growth or get clarity and insights from your data, request a free consultation below.
{{cta('efb6f0ea-9860-45b7-8827-c8abe8de1b2d')}}
FREE EBOOK
Discover how businesses have made the shift from CRO to experimentation – and you can too
Download your copy today >
Posted in: Conversion Rate Optimisation, Usability Testing
If you enjoyed reading this, you might also like